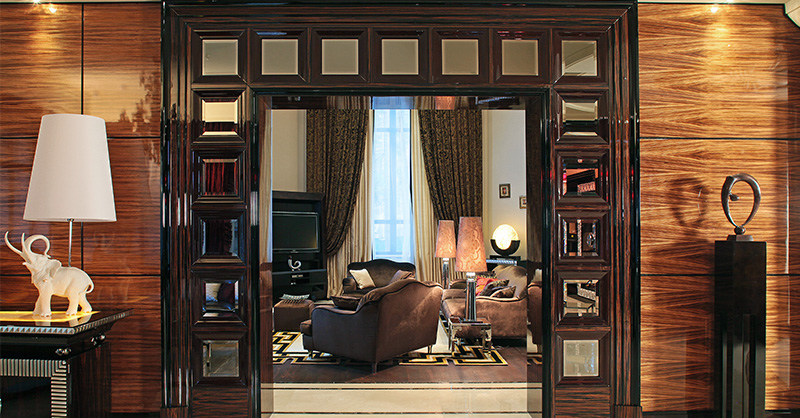 Whenever you think about the brand Francesco Molon, the first words coming into your mind are probably "Italian luxury furniture." Which is entirely correct.
Francesco Molon is synonymous with exclusive collections that explore the concept of interior design in all its different facets: from classic to contemporary style, the brand's solutions are designed and aimed at the complete personalization and Italian "exclusive style" of every space of your house, office or representative environment. Sofas and armchairs, tables and beds, kitchen and chairs, night furniture and mirrors, wardrobes and closets, and so many accessories.
However, there's more.
In the tradition of the most authentic Italian craftsmanship in terms of furniture and interior design, Francesco Molon is also the epitome of perfect interior doors and beautifully decorated ceilings. Because those elements, too, are essential to shape the personality of a room, a house or, more in general, space.
Francesco Molon proposes fixed and loose furniture's in its three main collections:
MolonDesign, where cleanness of lines and purity of colors and details are the most identifiable forces of its solutions
Classic, dedicated to those who love the peculiarity of wooden panels for ceilings and walls, expressed in the traditional artisan that has made Italy the most appreciated country in the world when it comes to fascinating, unique pieces of art and design
AtelierMolon, with exclusive, refined, superior solutions for those who want each and every one of their furniture pieces to be a work of pure mastery and decoration
Francesco Molon is also the reference point for your interior doors, thanks to refined and elaborated solutions that complete and work in synergy with all the entire ensemble of your furniture.
The importance of carefully choosing your interior doors and, if you so are inclined, the boiserie (wooden paneling) for your walls and ceilings is well-known. These elements of style are an integral part of the personality of any space, and they are always to be considered as pieces of furniture, just like a closet, a table, a sofa, a bed, a lamp.
Francesco Molon creates complete synergy among the many souls of your space: every room has its DNA and can be furnished and equipped from top to bottom with the most appreciated works of Italian artistry, reverberated into pieces of furniture that create a concerto of sensations.
Getting in touch with Francesco Molon to design the interiors of your office, house or representative place equals to create a strong professional bond with one of the most appreciated interior design brands in the world. The Italian company is ready to walk by your side in the complete customization of the spaces of your life, offering you 360-degree solutions for your interior design.
Interior doors, paneled ceilings, flooring and boiserie included.
Are you ready to create uniqueness in your spaces?
https://www.francescomolon.com/wp-content/uploads/interior-design-in-all-its-different-facets.jpg
418
800
Francesco Molon
https://www.francescomolon.com/wp-content/uploads/2018/01/logo-molon.png
Francesco Molon
2019-03-15 11:00:05
2019-03-12 17:25:32
Interior design in all its different facets: the excellence of interior furniture's by Francesco Molon