RESIDENTIAL
The ability to offer all tastes
Refinement , elegance, uniqueness, high-quality raw materials and manufacturing: these are just some of the characteristics of Francesco Molon heirloom quality furniture! With a competent team of artisans, Molon offers a wide selection of exclusive furniture, a remarkable ensemble of modern design high-end pieces.
Each customer can find a piece of furniture that perfectly reflects personal style and taste, so that is possible to fill the domestic environment with an elegant piece of Italian furniture, in other words, a refined work of art. Thanks to the passion and dexterity of our artisans, every client can create a personal piece of modern design high-end furniture: Francesco Molon and his team devote themselves to the fulfilment of every client's wishes.
Discover the world of Francesco Molon high-end furnishing, where the Italian manufacturing quality combines tradition and innovation in a piece of furniture: a unique creation for your exclusive world, which can be handed down through generations.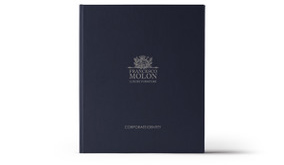 Corporate_Identity
CORPORATE IDENTITY
Download pdf of the complete presentation
of Contract, Government and Residential divisions
by Francesco Molon
ECLECTICA PROJECT
With its diversity of character, Francesco Molon takes Interior styling to a whole new level.
Each private residence reflects the characteristics of the owner, for this reason our interior designers focus on client's individual needs to create custom realizations, and therefore create the perfect furnishings that express to the best of their personalities.
Tecnology and craftsmanship combine to create the perfect setting from both design and functional perspectives.
In this prestigious private residence, the reflective shiny finish of the Makassar ebony and zebrano furniture is contrasted with the details in gold and silver leaf or onyx stone, creating a rich, refined and contemporary environment.
PRIVATE PROJECT
Prestigious dwelling with magnificient rooms furnished by Francesco Molon
Francesco Molon furnishings integrate themselves perfectly providing luster to the entire compilation of this prestigious dwelling distinguished by carved wood cladding.
Sofas and armchairs in classic style are well integrated in these large rooms, refined and with a well-marked taste. Craftsmanship and technology blend together to produce and distinguish Francesco Molon furnishing.
CLASSIC STYLE VILLA
Design and furnishing of a prestigious Italian residence
This splendid Villa completely furnished with furniture by Francesco Molon is Italian. Each of the majestic rooms has been designed following the personal tastes of the customer, and with an extra touch of refinement given by over 50 years of experience in the production of style furniture.
Living room, kitchen, the theatrical entrance: everything takes you back to the opulent times of Louis XV but with the technological adaptations necessary for modern life.
A combination of elegance and high quality for a residence full of charm and personality.